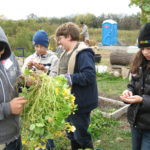 Welcome to YLJ!

For almost 20 years, it has been the vision of Rabbi Yossi Sapirman to introduce Bar/Bat Mitzvah aged children to the principles of Judaism, by learning about its values, and by living them as well. Rabbi Yossi's novel approach to this program provides students with a rewarding appreciation of Jewish culture and heritage, and a memorable B'nai Mitzvah experience.

The Year of Living Jewishly program for Bar/Bat Mitzvah aged children emphasizes that this is the first year of their adult education, not the last year of their childhood education. We actually treat them like adults, and their Judaism is experienced as an adult. The curriculum provides an experiential, modern and self-challenging approach to teaching and learning Judaism.
What is unique about YLJ?

The best gift we can give to our children is to educate them so they engage their Jewish identity beyond their Bar/Bat Mitzvah. At YLJ we do this by ensuring that the values and moral lessons of Judaism that were taught to themaschildren, are again presented to them in their maturing years designed to be meaningful throughout their adult lives.

After the year ofstudyandhands on involvement in Jewish causes and issues, our B'nai Mitzvah are ready to move forward into adulthood with practical and mature ideas of Judaism and how it is relevant and applicable to life in our modern times.

Students have the benefit of a personal relationship with a dynamic and teen-aware Rabbi, and a Jewish experience and connection to last a lifetime.

For more information please contact Jenn Ferman at programs@livingjewishly.org.
Mon, 25 March 2019 18 Adar II 5779