Welcome to YLJ!
For almost 20 years, it has been Rabbi Yossi Sapirman's vision to introduce Bar/Bat Mitzvah aged children to the principles of Judaism, encouraging them to learn about and living these important values. Rabbi Yossi's novel approach to this program provides students with a rewarding appreciation of Jewish culture and heritage, and a memorable B'nai Mitzvah experience.

The Year of Living Jewishly program for Bar/Bat Mitzvah aged children emphasizes that this is the first year of their adult education, not the last year of their childhood education. We actually treat them like adults, and they experience Judaism as an adult. The curriculum provides an experiential, modern and challenging approach to teaching and learning Judaism.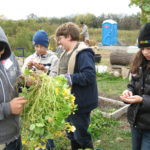 What's unique about YLJ?
The best gift we can give to our children is to educate them so they can engage their Jewish identity beyond their Bar/Bat Mitzvah.
At YLJ, we strive to ensure that the values and moral lessons of Judaism they are taught at a young age are presented to them again as they grow and maintain meaning throughout their adult lives. After a year of study and hands-on involvement in Jewish causes and issues, our B'nai Mitzvah are ready to move forward with practical and mature ideas of Judaism and how they are relevant and applicable to life in our modern times.

Students have the benefit of developing a personal relationship with a dynamic and teen-aware Rabbi, as well as a Jewish experience and connection to last a lifetime. For more information, please contact us.
Sun, 9 August 2020 19 Av 5780