Watch our Livestreamed Shabbat Services
A Note About Membership Renewal
For an important message about membership renewal from Rabbi Yossi and President David Lewis, click here.
Poster Challenge Accepted!
The winner of our Poster Challenge is Isaac from our Hebrew School! Thanks, Isaac, for the fantastic artwork!
Live from Thornhill…. It's Friday Night Live!

Tune in on Facebook Live and join Cantor Ben to sing along Kabbalat Shabbat. Every Friday at 7:30pm (Shavuot, May 29 excepted) Unwind, sing and eat! Visit Beth Torah's Facebook Page here.
Rabbi Yossi's Sermon, May 17: "Keep the Change"
Novelty socks, HD cameras, an online film fest: How Toronto Jews are keeping traditions going during the pandemic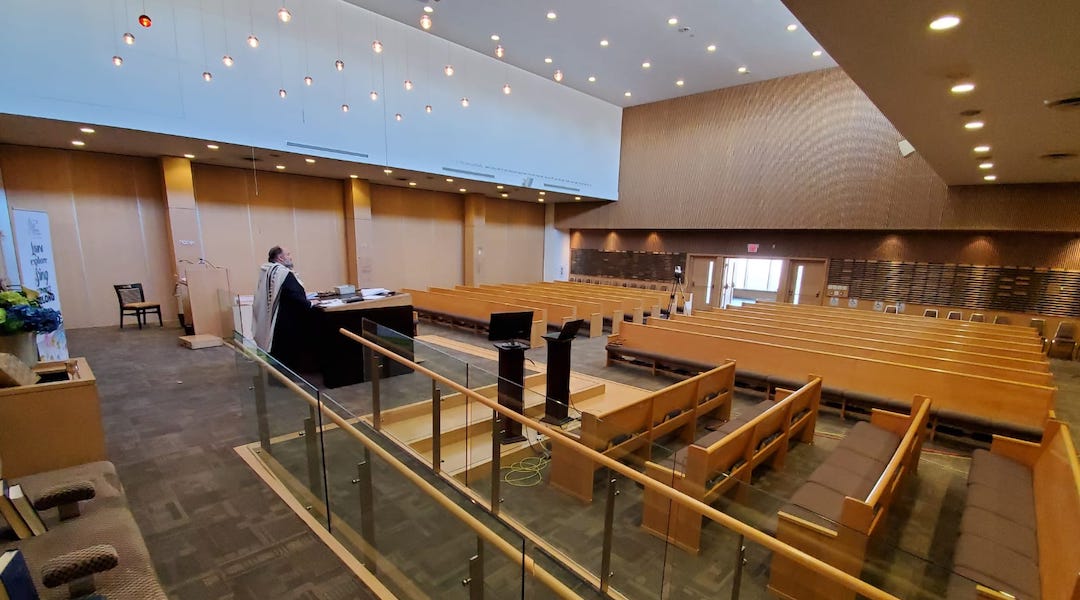 We were featured in JTA News for our forward-thinking livestream this past weekend. Read More...
Daily Minyan
We are happy to announce that we will be hosting a daily morning minyan via Zoom. If you would like to join, please email Mark Tytel to register and receive a link to the services.

Because of security concerns we need to verify everyone who registers. Please be patient as this may take a few days. Please also note that we are unable to process your request on Shabbat or Jewish holidays.
Let Us Know What's Happening With You
Have something to share and need to connect with us?
Have something to celebrate and want to let us know?
Fill in the message below to let us know!
Rabbi Yossi's Sermon, May 9: "As it was in the beginning (one love), So shall it be in the end (one heart)"
Rabbi Yossi Says...."Don't blame it on the sunshine; Don't blame it on the moonlight; Don't blame it on good times; Blame it on the......"
Rabbi Yossi's Sermon, "Whom have we banished from our lives?" Welcome in a Time of Distance
Rabbi Yossi's Sermon, April 18th, 2020: Good news is no news. Why we are tuning out and dropping in.
Rabbi Yossi's Sermon, April 16th, 2020: Breathing Under the Sea. 2020 is Hindsight.
"Yizkor Memories.'' April 16th, 2020.
Rabbi Yossi's Sermon, April 11, 2020 The Valley of Dry Bones: When We Come Back to Life Who Will We Be?
Rabbi Yossi's Perspective on Cheeseburgers, Mental Health and Rabbinic Cruelty
Rabbi Yossi's Sermon, April 4, 2020 Standing Between the Living and the Dying
Rabbi Yossi's Sermon, March 28: 2020 -The Most Important Passover Ever. Really.
Connecting With Us
Are you hoping to be in touch with us? The best way to reach us is by email!
For Atarah Derrick, Managing Director, email: director@bethtorah.ca
For Nomi Barancik, Lifecycle and Membership Coordinator, email: admin@bethtorah.ca
For Tali Bronshtein, Accounts Manager, email: accounts@bethtorah.ca
For Rabbi Yossi Sapirman, email: rabbisoffice@bethtorah.ca
For Cantor Ben Silverberg, email: cantor@bethtorah.ca
For rabbinic emergencies only, relating to illness or death, please contact 416 508 8755
️
️
️
Important Update Regarding COVID-19 and Beth Torah
Dear Friends, Congregants and Community,

A message will follow with an update regarding the status of Beth Torah Congregation.

But before we share words of hope and optimism, the most important words are "listen only to credible medical professionals, they are on the frontlines and will guide us back to good health."

For those living in tenuous times, Rabbi Nachman of Breslov wrote "Kol Ha'Olam Kulo". The compelling lyrics set to music composed by Rabbi Baruch Chait are likely familiar to you,

כל העולם כלו גשר צר מאד והעקר לא לפחד כלל

Kol ha'olam kulo
Gesher tzar me'od
Veha'ikar lo lifached k'lal.

The entire world
Is just a very narrow bridge
And the main thing is not to panic at all.

The world today seems to be a very narrow, unstable bridge, but don't panic- this too shall pass. We are here for you. If there is anything we can do to make it easier, let us know. We will do our utmost to help our community get through these troubled times.

We will be further updating and communicating soon. Stay strong and make the best choices possible for yourself and everyone else.

Sincerely,

David Lewis and Rabbi Yossi Sapirman
President Senior Rabbi


Monday, March 16 Update

Beth Torah has always been a place that prioritizes the health and well-being of its' members and community. The spread of the novel coronavirus has been a concern to us all, and we have taken advice from health professionals, leadership and Executive Committee in our decision-making.

It is with this in mind that we wish to notify you that we will be suspending all services, education, programs and events at the shul until further notice.

Some things to note:

We intend to livestream our Shabbat morning services between 8:45 am and 11:00 am at www.bethtorah.ca/livestream.
The on-site office has closed, but the office staff have moved to working remotely. Our staff is still available to you through normal channels of communication - by phone and by email.
We will continue to send out our yahrtzeit notifications and weekly bulletin. Our Passover magazine will be available online.
For urgent issues relating to bereavement or illness, please contact 416-508-8755.
If your needs are of a health-related issue, please contact Toronto Public Health or your health practitioner.

As always, we are a shul that prioritizes you. Should you need us, please connect with us. Click here for our contact information.
Sat, 30 May 2020
7 Sivan 5780
Today's Calendar
---
Friday Night
Shabbat Day
Shacharit

: 8:45a
Havdalah

: 9:47p
Candle Lighting
Havdalah
Motzei Shabbat, May 30, 9:42p
Shavuot & Yizkor
View Calendar
Sat, 30 May 2020 7 Sivan 5780