If you are having trouble viewing the webcast, please email info@livemedia.biz for technical support or join us here.
Livestream made possible through the generosity of Martin and Shirley Glick.
Livestream services are held from 8:45 am and 11:30 am on Shabbat and Holidays.
To follow along in the siddur, click here.
For the Shabbat of Aug 8
TORAH READING
Deuteronomy 9:4 – 10:11
HAFTARAH
Isaiah 49:14 – 51:3
June 28, 2020
"After the Pandemic: Nightmare or Dream?"
---
June 6, 2020
"A Rose Among the Thorns" Pricking our Conscience, Bleeding from a Thousand Cuts.
---
May 17, 2020:
"Keep the Change"
---
April 25, 2020:
"Whom have we banished from our lives?" Welcome in a Time of Distance
---
April 11, 2020:
The Valley of Dry Bones: When We Come Back to Life Who Will We Be?
---
March 28, 2020:
The Most Important Passover Ever. Really

June 20, 2020:
"Summertime and the Living is..."


---
May 30, 2020:
"Stay Hungry"
---
May 9, 2020:
"As it was in the beginning (one love), So shall it be in the end (one heart)"
---
April 18th, 2020:
Good News Is No News. Why We Are Tuning Out and Dropping In
---
April 11, 2020:
Perspective on Cheeseburgers, Mental Health and Rabbinic Cruelty
June 14, 2020:
"The Voice of my Beloved Knocks."


---
May 23, 2020:
"Have You Been Invited?"



---
May 2, 2020:
"Don't blame it on the sunshine; Don't blame it on the moonlight; Don't blame it on good times;
Blame it on the..."
---
April 16th, 2020:
Breathing Under the Sea, 2020 is Hindsight.

---
April 4, 2020:
Standing Between the Living and the Dying

A Note About Membership Renewal
For an important message about membership renewal from Rabbi Yossi and President David Lewis, click here.
Poster Challenge Accepted!
The winner of our Poster Challenge is Isaac from our Hebrew School! Thanks, Isaac, for the fantastic artwork!
Novelty socks, HD cameras, an online film fest: How Toronto Jews are keeping traditions going during the pandemic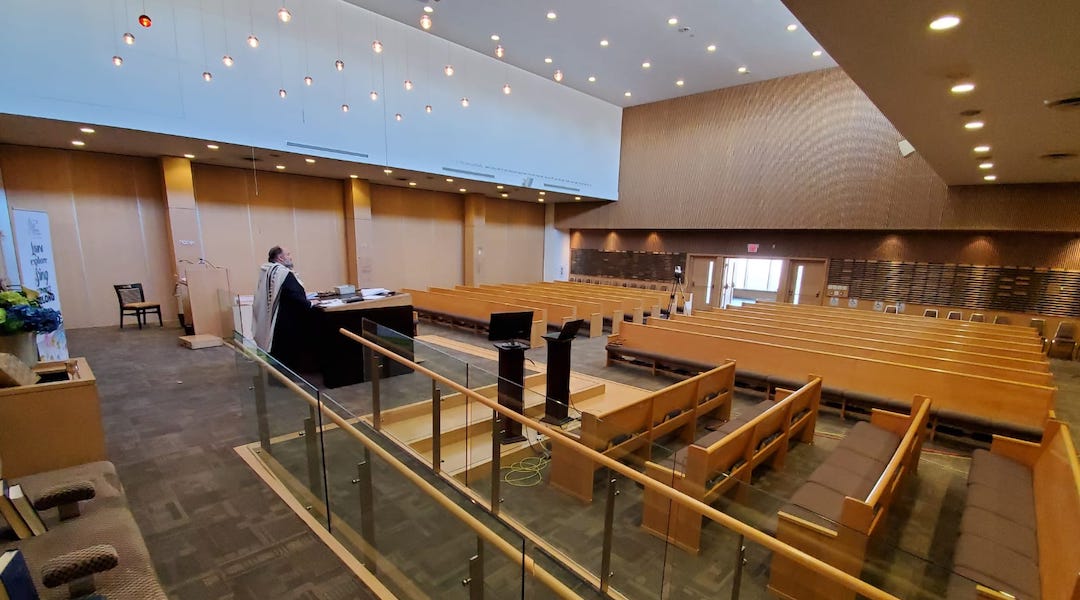 We were featured in JTA News for our forward-thinking livestream this past weekend. Read More...
Daily Minyan
We are happy to announce that we will be hosting a daily morning minyan via Zoom. If you would like to join, please email Mark Tytel to register and receive a link to the services.

Because of security concerns we need to verify everyone who registers. Please be patient as this may take a few days. Please also note that we are unable to process your request on Shabbat or Jewish holidays.
Connecting With Us
Are you hoping to be in touch with us? The best way to reach us is by email!
For Atarah Derrick, Managing Director, email: director@bethtorah.ca
For Nomi Barancik, Lifecycle and Membership Coordinator, email: admin@bethtorah.ca
For Tali Bronshtein, Accounts Manager, email: accounts@bethtorah.ca
For Rabbi Yossi Sapirman, email: rabbisoffice@bethtorah.ca
For Cantor Ben Silverberg, email: cantor@bethtorah.ca
For rabbinic emergencies only, relating to illness or death, please contact 416 508 8755
️
️
️
Let Us Know What's Happening With You
Have something to share and need to connect with us?
Have something to celebrate and want to let us know?
Fill in the message below to let us know!
Sun, 9 August 2020
19 Av 5780
Friday Night
Shabbat Day
Shacharit

: 8:45a
Havdalah

: 9:10p
This week's Torah portion is

Parshat Re'eh
Candle Lighting
Havdalah
Motzei Shabbat, Aug 15, 9:10p
Shabbat Mevarchim
View Calendar
Sun, 9 August 2020 19 Av 5780